Three Easy Ways

to get Digital

Pictures

It's easy to get digital pictures from us, as easy as 1-2-3: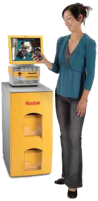 1 - Bring your images on camera cards, CD, DVD, or thumb drive, to the store just like regular film.
2 - Visit our store and use one of our KODAK kiosks to place your personal order for 4x6, 5x7, 6x8, 8x10, 8x12 prints & enlargements, print packages, framed specialty prints, calendars, even make a movie DVD from your images.
3 - Use our Internet digital print ordering system. Free to sign up and easy to use. Order from home, Pick up in store.
4x6 prints from digital sources
camera card, CD, DVD, Thumb drive

1 - 149 prints
39¢ ea.
150 - 299 prints
36¢ ea.
300 - 599 prints
33¢ ea.
600+ prints
30¢ ea.
CD, DVD, USB (up to 4G) from digital files
$7.99
Add current price for larger USB
Same Day Service from digital up to 8x10/12
5x7
$3.25
11x17
$16.99
6x8
$3.99
16x20
$29.99
8x10 / 8x12
$6.99
20x30
$39.99
11x14
$14.99
Small Pictures for Lockets
$20.00

Dry mounting - Larger pictures should be dry mounted on a solid substrate for best display results.

20x30
$17.00
16x20
$15.00
11x14
$9.00
Photo scanning - We scan your photos or slides in to CD or DVD. First scan $5.00; additional scans $1.00 each. Several file types and sizes available
File recovery Things happen. Files get accidentally erased or just disappear from camera cards. Our special software can sometimes recover images thought lost forever. Camera Cards or USB only $35.00 plus media.
We can even make pictures from phones.
Prices and services are subject to change without notice.