Full
Service

Camera

Shop

We are a full service camera shop including 1 hour film, Massachusetts digital photo processing, Massachusetts Photo finishing, New & used camera equipment, frames, photo mats, and photo accessories.
Three Easy Ways

to get Digital Pictures

It's easy to get digital pictures from us, as easy as 1-2-3: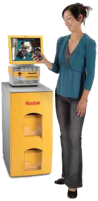 1 - Bring your images on camera cards, CD, DVD, or thumb drive, to the store just like regular film.
2 - Visit our store and use one of our KODAK kiosks to place your personal order for 4x6, 5x7, 6x8, 8x10, 8x12 prints & enlargements, print packages.
3 - Use our Internet digital print ordering system. Free to sign up and easy to use. Order from home, Pick up in store.
Green

Photo

Processing

We are green, our Kodak APEX printer uses no chemistry and produces no chemical waste. Beautiful pictures, no chemicals. Make friends and family "green" with envy when you show them great pictures you get with your digital camera.
Video
Services
Your video memories are just as important as your photos. Did you know that video tape degrades with age? Rescue your videos by transferring them to DVD, today with our video services.